Overview of Student dormitories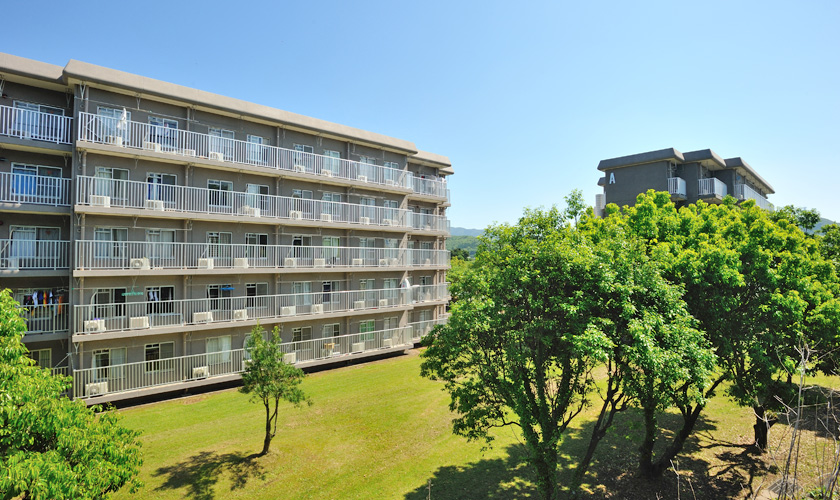 Facilities

There are five buildings in total, each housing 70 people, dormitories a total of 350. One of these buildings is for women only.
All rooms are private (Western-style, about 10m2). 14 people reside on each floor.
On each floor there is an additional meal room (kitchen), a laundry room (3 washing machines), a washroom, bathroom, toilet and an internal phone. These are shared-use.
An internet connection is available in each room through an individual contract (University-appointed supplier, PC to be installed by the individual)
If installing a TV capable of receiving NHK broadcasts, you will need to arrange a TV License with NHK independently.
Costs
¥13,800 per month, including board, utilities, bedding and consumable item fees
In addition, a breakfast fee will also be charged
(For 2017, ¥70,290 was charged for a total of 213 days)
Student dormitories Life
Rules

Tenants are obliged to follow the rules and regulations regarding student dormitories

Meals

There is no cafeteria inside the student dormitories, however there is a cafeteria and coffee shop on campus where meals are available.
There is an additional meal room (kitchen) on each floor in the student dormitories in which you can cook.
Tenants in the 1st to 3rd year are required to take breakfast at the student cafeteria.
(Excluding Sundays, Public Holidays and Long Vacations)

Bedding

To improve sanitation, we will lease a set of bedding (No need to bring your own)

Parking Lot

New students (except for graduate students) are not permitted to bring cars. (This will lead to expulsion)
Motorcycles and bicycles are permitted.

Other

TV's, refrigerators, fans, electric stoves (kerosene stoves not permitted) etc., are regarded as things brought into rooms by senior students. Please ensure to set these up after confirming the room space. Some people will give these to others lacking them, or dispose of them.
Student Dormitories Association
In the student dormitories, based on the provisions of Article 28, paragraph 1 of the Student Dormitories Rules and the guidance and supervision of the University President, and through experience of independent life, the Student Dormitories Association aims to promote the development of human character and the creation of an environment conducive to effective study and living.
The association is composed of all students living in the dormitories.
Contact Information
If any parts are unclear please contact us.
Student Affairs Office, Student Life Service Section
[Phone] 0994-46-48880994-46-4888