About NIFS
Message from the President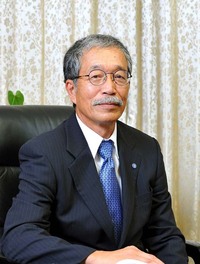 Through the years, sports in Japan have mainly been promoted and developed as part of school education. However, as part of an effort to improve physical and human environments so that ordinary citizens could enjoy sports throughout their lives, the National Institute of Fitness and Sports was established in 1981in Kanoya City, Kagoshima to train leaders in public health and physical fitness. In the 30 years since its opening, we have produced professional athletes; top-level athletes, coaches and trainers; school physical education instructors; sports management administrators; sports programmers; researchers; and many others.
In order to promote and develop sports from a human perspective, not only are the players (i.e. "those who do")necessary, but so to are "those who support"the players—the coaches, the sporting event planners, the operations managers and the many other staff and management). Furthermore, we cannot forget the importance of "those who watch"), the spectators who enliven the events and cheer for the stellar performances of the athletes.
For human beings, "doing" sports means contributing to the preservation and improvement of physical fitness and, thereby, health. However, "watching" sports is a cultural component that also has the power to enrich our lives by developing our senses and emotions. Moreover, I believe that by expanding the union of "Doing, Supporting and Watching" through sporting activities, sports can help communities to be better engaged.
As a university, The National Institute of Fitness and Sports in Kanoya is currently undertaking three major research projects: TASS (Top Athlete Support System), PALS (Promotion of Active Life Style), and CASE (Community Activation through Sporting Events). In this way the university can continue to contribute to the promotion and development of sport.
President : MATSUSHITA Masao